Hotel Software
Simplified
A suite of hotel management software products designed to
effectively GROW your hotel occupancy, INCREASE your revenue
and ensure you make SMART business decisions.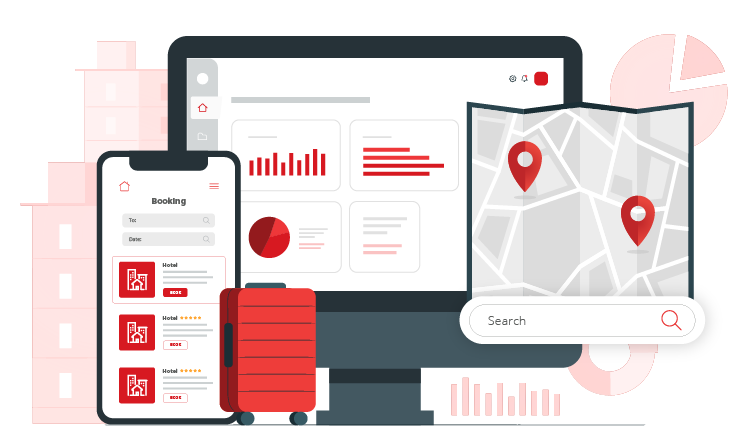 Grow your visibility in places that matter. Steadily increase your occupancy and revenue while you spend time focusing on more important things – your guests!
Understand your market and know your demographic. Work smarter not harder with all the facts to make better business decisions at your disposal.
Do away with Hefty Commission fees. Entice your guests to book direct by offering a seamless booking experience.
Connect, Leverage and Grow with HiSITE
HiSITE, A Guesty Company, brings a wealth of industry experience to its range of leading hotel management software products for all accommodation types and sizes. HiSITE products include HiSITE Channel Manager, HiSITE Analytics and HiSITE Booking Engine.
HiSITE Channel Manager is a powerful distribution platform for any accommodation property, from campgrounds to resorts. HiSITE Booking Engine drives more direct bookings by offering guests a seamless booking experience. HiSITE Analytics enables accommodation providers to make smarter business decisions by analysing their market and competition.
Don't just take our word for it…
"The software is very simple and it is easy to manage,During busy times we would save a half a day's work for a staffmember. This helps us to improve customer service to our guests and even save a little in wages "
- Geoff, Ivory Palms Resort
Don't just take our word for it…
"We use HiSITE as our channel manager, we have found HiSITE to always be reliable, as a channel manager HiSITE always integrates live and works perfectly with our Property Management System."
- Peter & Michael, Hervey Bay Colonial Lodge